Kek Woodworking Worskhop - Online Design event - February 21
21 Feb 2016 09:00 AM to 21 Feb 2016 06:00 PM
Inspiration
KeK is used by people who like to make things and help people learn to make things.
Peer learning by demonstration is our preferred format. The base exists as a physical space which can facilitate this p2p interaction in a safe, clean and stimulating environment.
In its brief existence, KeK is what the people who have used the space so far, have made it. These people are from various fields of expertise, and are happy to share their knowledge as well as gain new insights of their own.
KeK is locally challenged by a class divide in its immediate neighborhood, which needs to be transcended, to be truly inclusive. This requires people to use the space continuously as a working environment.
As you can see in the pictures (or if you have visited Kek) you would that while there is plenty of space, the premises are furnished with a bare minimum.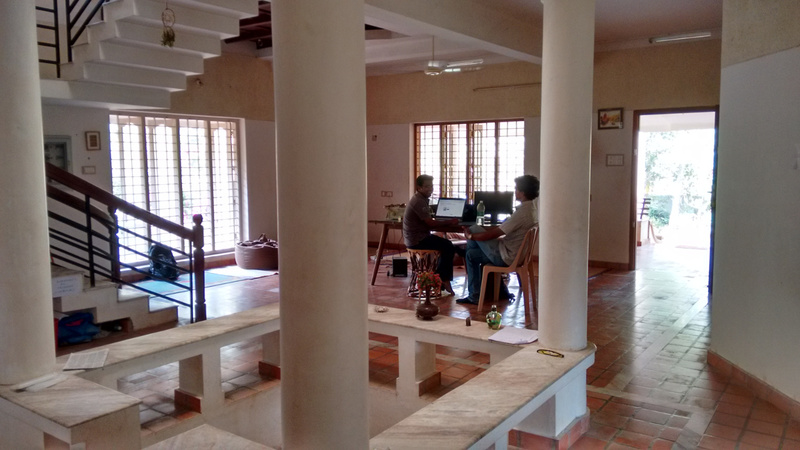 We, as the maker community that make up Kek, can do something about it, true to the maker spirit.
How ?

Furniture making is not as arduous a task as it was before, when it took serious carpentry knowledge to cut and assemble things.
These days we have the luxury of accessing openly shared designs and using a CNC machine to cut and mill wood to specification. All that remains then would be to assemble them.
For a better idea :
We can use our collective intellectual resources to pick viable designs and run this as a maker event and gift the end results to Kek. This is a great opportunity to come together, learn, teach and make a meaningful gesture to the society.
Okay what do we do now ?
On 21 Feb 9 am IST till 6 PM IST we will convene on #hackbeach at irc.oftc.net and try to see what we can come up with for designs at kek.
Afterwards, share your designs at https://www.thingiverse.com/, under a Creative Commons license.
What do we need ?
A CAD program that can produce designs that can be shared around. Plenty of time, and a connection to the IRC network.
Schedule
| | |
| --- | --- |
| TIME | EVENT |
| 9am - 10am | Chitchat and welcome |
| 10am - 11am | KeK requirements and discussions. |
| 11am - 3pm | Breakout and do your own designs. |
| 3pm - 5pm | Compare and discuss various designs - create a collection |
| 5pm - 6pm | Vote for the most suitable and desirable designs |